contacts -- groups.yahoo.com/group/teatr

topics.txt : utopia project * pomo theatre * chekhov2.0 * book of spectator * virtual theatre * webshow(s) * lul.vtheatre.net * poll'09

dir.txt : seasons * lul * doc * pix *
references
LUL promo:
особое мнение
Говорит Лев Рубинштейн
Знаменитый поэт объяснил, что раздражает его в театре как институции, и признался в любви к театру как таковому
1. "School of Russian Theatre" -- read my pages on Stanislavsky and Meyerhold
2. American (business) model
3. "Ethiopian Millennium" -- what is Ethiopian Culture ?
From RAT Files: Theatre on Taganka (Teatr na Taganke)

... direct.vtheatre.net/brecht (director) + script.vtheatre.net/brecht (writer)

http://www2.bardonthebeach.org/EmbVideo/MilesP_Shrew_Comments_WMV.htm The Taming of the Shrew 2007 [ director ]
http://www2.bardonthebeach.org/EmbVideo/Shrew_Trailer_WMV.htm

... http://www.cosmosandhistory.org/index.php/journal/article/viewArticle/101/163 ***

http://www.territoryfest.ru/ Государственный Театр Наций

http://god.dvoinik.ru/hronograph/stenogrammi/lubumov.htm [ru]

... PeaceCorpsWriters.org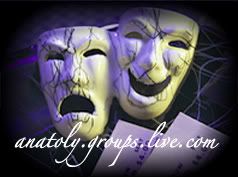 anatoly2.0 : Anatoly XXI * Webman's * Anatoly ALL * film * theatre * feeds * links * anatoly.ru * bloglines * myLibrary
bar : webshow Guildenstern for Rosencratz + Post-Chekhov + pomo.vtheatre.net + my notebook THEATRE 2008 blog * groups.myspace.com/stagematrix | knol.google.com/k/anatoly-antohin
support: blogs : Y-profile + film + bloglines + blogger/webmaster + SHOWS: vtheatre.net/2008 | 2009 | teatr group/forum | LUL
My Windows Live THEATRE
My Live Widow ETHIO
subjects : stagematrix.vtheatre.net * meyerhold.us * classes/2010 * beta.vtheatre.net * Lul Theatre -- season, shows, classes
Lijit Search filmplus.org LUL Tel: 011-251-910566800